Victoria welcomes Yorkshire Champions
Victoria welcomes Yorkshire Champions
23 June 2023 (by admin)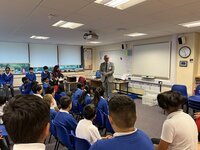 Victoria Primary School are very happy to have been working with the Yorkshire Champions this year, facilitated by Bradford Council and supported by the Chamber of Commerce and Bradford Breakthrough.
We have welcomed many inspirational people into school to talk with our children about their lives and their career paths.
This week, we welcomed Simon Hinchcliffe, the Head of Bingley Grammar School. He certainly got the children thinking about their futures and how working hard can be the key to success!